Love is a beautiful thing and so is a good laugh.
And when the movie is a black romantic comedy, the love is sweeter and the laugher is louder.
The black romantic comedies on this list will hit the spot for you regardless of your taste in romantic movies and/or comedies. That's because this list highlights 20 of the greatest black romantic comedies of all time, in no particular order.
1. How Stella Got Her Groove Back
Who can deny the freshness and sexyness of this classic?
How Stella Got Her Groove Back tells the story of Stella and Winston. Stella meets Winston while she's vacationing in Jamaica. Despite their cultural and age differences, they end up falling in love. This movie is sprinkled with romance, humor, and adventure.
If only the true true story that inspired the movie had a happy ending.
2. Boomerang
A successful ad executive with a ladies' man reputation, Marcus, meets Jaqueline, a woman who seems to be the female version of himself.
The plot gets a little twisted when Marcus is a bit put off by Jaqueline's noncommittal attitude. The plot thickens when Angela joins the party, a woman whose caring attitude grabs the attention of Marcus.
Eddie Murphy, Halle Berry, and Robin Givens star in Boomerang.
3. Jumping the Broom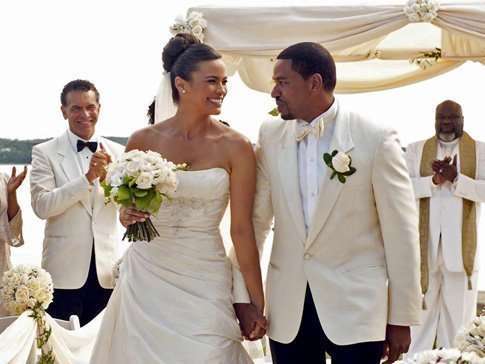 The Taylors and the Watsons merge in this sweet romantic comedy starring Paula Patton and Laz Alonso.
Sabrina comes from old money. Jason comes from no money. The rom-com revolves around the merging of these two very different worlds.
4. Daddy's Little Girls
Daddy's Little Girls is about Monty and Julia. He is a single dad who fights for custody. She is a cold-hearted lawyer who helps him succeed.
There's a romantic spark between them, but will she get the approval of his little girls?
5. Deliver Us from Eva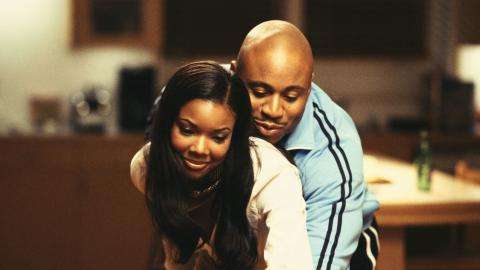 Another Gabrielle Union romcom we love!
Ray is hired by Eva's relatives to seduce her and distract her from the family's business. However, what started out as an arrangement develops into a love story.
6. The Best Man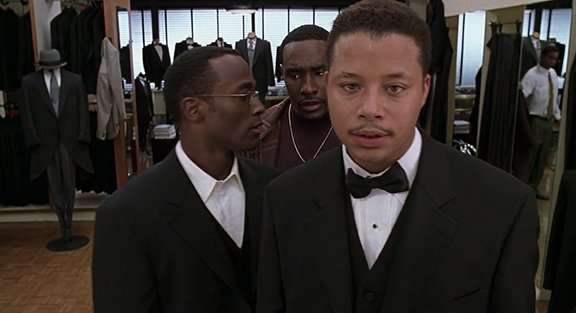 Who hasn't obsessively watched and rewatched this absolute classic?
This wild ride of a movie is about college friends who come together for the wedding of the century. But the wedding weekends sees much more than the union of the perfect couple. It also sees the revelation of an old secret that stands to tear about a friendship and a relationship.
Watch this movie for the writing, for the comedy, for the drama, for just everything!
7. Hav' Plenty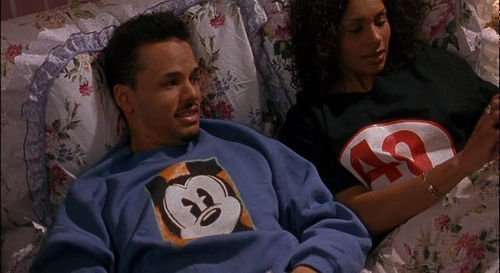 Hav' Plenty is about empty-pocketed novelist Lee Plenty who spends an interesting weekend trying chasing after his long time crush. The problem is that her luxurious lifestyle isn't something that he can support. And she has a boyfriend.
This 1998 independent flick is a cult favorite as it is a great reflection of love and sex in the '90s.  
8. The Wood
A wedding is taking place in Inglewood, CA, aka "The Wood". But getting to the wedding day is quite a fiasco.
This bromance comedy will take you down memory lane along with the characters as the groomsmen struggle to get the groom to the wedding.
9. Top Five
Chris Rock should be the only reason you want to watch this movie. And he doesn't disappoint. But there's also so much more to this movie.
Comedy star Andre is set to have a huge celebrity wedding. He also has to spend an entire day with Chelsea, a New York Times profile writer. While he wasn't as enthusiastic about it at the beginning, Andre opens up to her and finds himself drawn to her. In the mean time, the world is waiting for his massive wedding.
10. An Oversimplification of Her Beauty
If you must watch one movie outside of the box, let it be this one.
In An Oversimplification of Her Beauty, artist Terence Nance gets stood up and tries to identify the reasons why his past romances didn't work out. In addition, he reflects upon the differences between platonic and physical love.   
11. The Brothers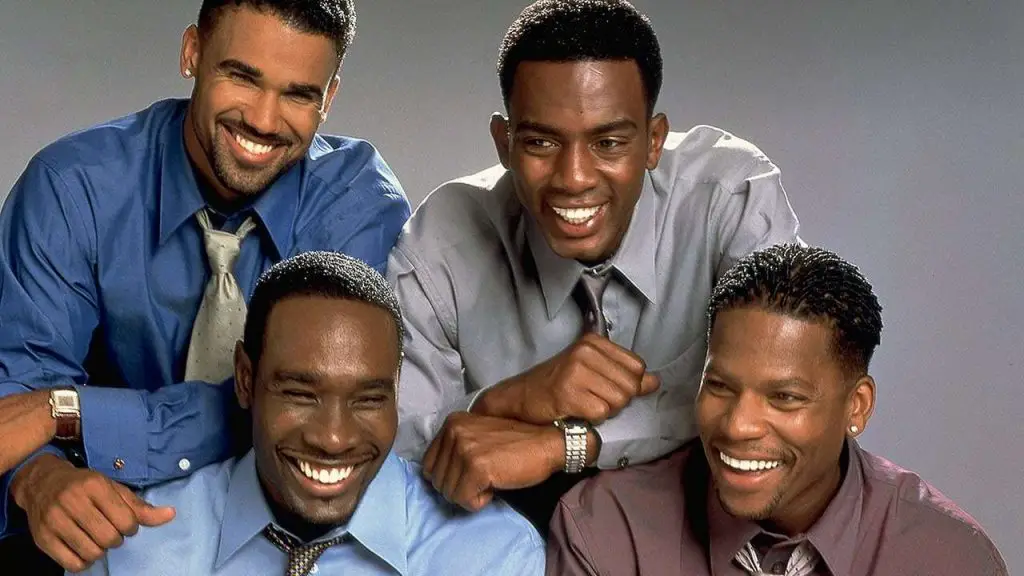 Another bromance flick that focuses on one of the men getting hitched.
Derrick, Brian, Terry, and Jackson use the basketball court as their get-together spot for talking about their love lives, complaining about their partners, and asking for advice.
All is well in bromance land until one of them decides to get married.
This star studded movie will have you cracking up!
12. Claudine
Claudine was raising her six kids by herself while living on welfare when she meets Roop, a garbage collector. Their relationship might be doomed from the start, but the two work hard to keep it alive.
This 1974 movie might be more of a drama, but it has a great sense of humor to it. Plus, you get to watch James Earl Jones in a romantic flick.
13. Love Jones
Nina and Darius have amazing chemistry; their sultry relationship is the base of this Chicago-brewed story.
Poetry, art, and romance blend in this movie that endlessly gets quoted. We love this movie because it gets better with time, like fine wine.
14. Love and Basketball
No other movie on this list is appreciated as much as Love and Basketball is.
The love of basketball brings Monica and Quincy together, but it also threatens to tear them apart as both pursue different paths in the sport they both love.
It's a tear jerker, this one. It's more of a romantic drama than romcom, but a must watch either way.
15. Something New
Another romcom that sees Sanaa Lathan in the lead role, Something New is a story about Kenya and Brian, two opposing personalities that are set up on a blind date. She's uptight and a corporate climber. He's a free spirit with a passion for color and gardening.
Plus, the movie highlights common issues of interracial relationships and the division that African Americans have with this controversial subject.
16. Just Wright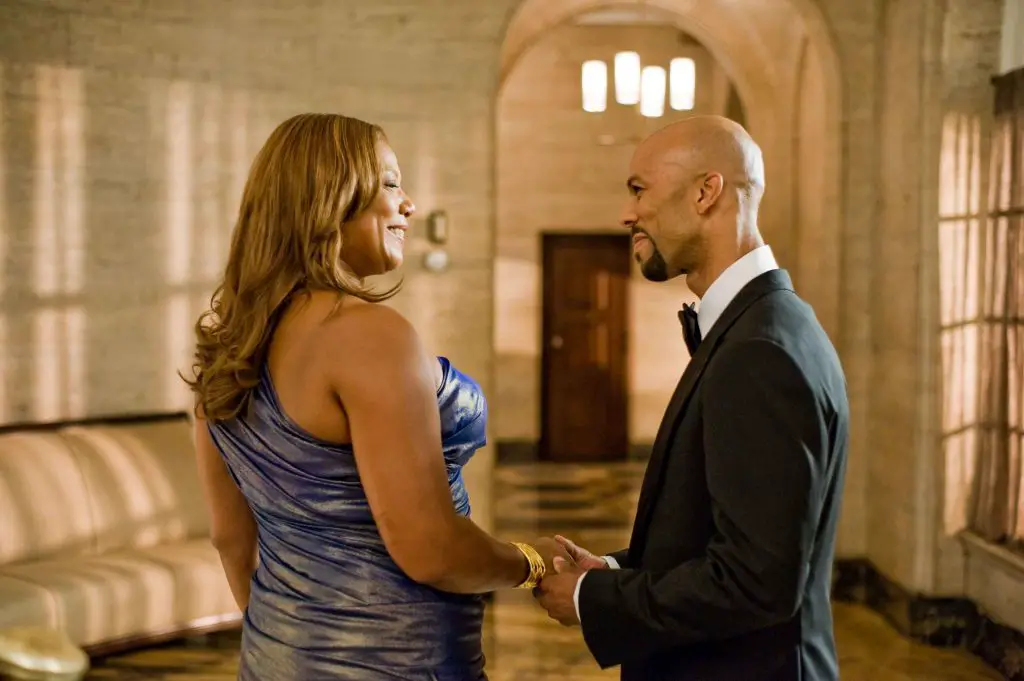 Common and Queen Latifa? Yes, please!
Scott, an NBA player, realizes that he has romantic feelings for Leslie, his physical therapist. However, Leslie fell for Scott way before him, somewhere along the process of helping him getting back into the game.  
17. Think Like A Man
Act like a lady, think like a man. You've heard the popular Steve Harvey saying, but have you watched the movie yet?
Four close friends find out that the women in their lives have been using Think Like A Man, a popular relationship book authored by Steve Harvey. The couples learn several important lessons about relationships and about themselves.
18. Brown Sugar
Two childhood friends share a hip-hop passion, but end up realizing that it's not just the catchy beats that keeps them together, but also their feelings.
Like Love & Basketball showcases basketball, Brown Sugar showcases hip hop. A must watch!
19. Two Can Play That Game
Shante's set of rules are perfect for keeping men in check. But Keith, her soulmate, doesn't really play by her rules. This leads to an exciting game between the two of them, each trying to surprise and outdo the other.
This is a fun one to watch with the girlfriends.
20. A Thin Line Between Love & Hate
Notorious ladies' man, Darnell Wright, is at it again when he meets Brandi. He sleeps with her and is ready to dump her when he realizes this time, he won't be out of it as quickly and simply as he's used to. That's because Brandi is not ready to be dumped without causing havoc.
This hilarious Martin Lawrence comedy will have you hooked until the very end.
If you're like us, you probably have watched every movie on this list. If you're not, then we hope you have found something new to check out.
Let us know which one is your favorite black romantic comedy.